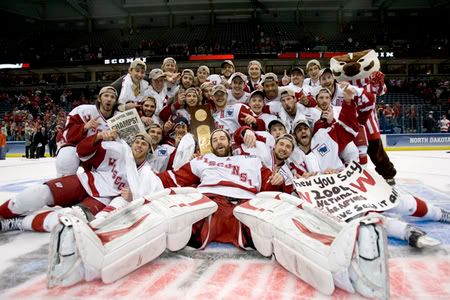 From ESPN.com:
Robbie Earl, Tom Gilbert and Brian Elliott each received another chance. With a national title at stake, all three -- and a post -- came through for Wisconsin.
Gilbert scored a goal on a power play, Earl added another and Elliott made 22 saves to lead Wisconsin to its sixth national title and first since 1990 with a 2-1 victory over Boston College on Saturday night.
The Badgers had trouble solving Cory Schneider, who was brilliant with 37 saves.

After stopping two earlier slap shots by Gilbert, the self-described offensive defenseman came through on the power play with 10:28 left in the third when he took a pass from Joe Pavelski and ripped one from between the circles that beat Schneider to give the Badgers a 2-1 lead.

"I was thinking to myself, 'I'm not going to strike out three times,' " Gilbert said. "Joe Pavelski made a great pass to me, and I just buried my head and I knew the puck was going to go in."
BC's Anthony Aiello hooked Jack Skille a minute earlier to set up the final goal just after Wisconsin (30-10-3) ran its successful penalty kill streak to 36.
Boston College (26-13-3) couldn't break through the bigger, stronger blue line defenders for Wisconsin, and Elliott didn't face the second chances the Eagles said they had to have to win.
Chris Collins fired a shot wide with just over 2 minutes to play, and BC failed to score after pulling Schneider with 23 seconds left as BC's last, desperation shot by Peter Harrold hit the right post with 1.7 seconds left.
"Unfortunately, a quarter-inch to the right and it bounces out," Harrold said. "That's the way it goes sometimes, I guess."
Said Elliott: "Posts are your best friends, and I got one tonight."